City Sights, Spectacular Food and Stunning Scenery on an Exclusive Famil
A team of six personal travel managers (PTMs) who qualified for a famil in Northern California spent six memorable days exploring the highlights of Sonoma County, Yosemite National Park and San Francisco.
The famil, which was exclusive to TravelManagers and hosted by the tourism boards of Yosemite/Mariposa County, Sonoma County and San Francisco, was the culmination of a sales incentive that rewarded six PTMs as high achievers either for Qantas ticket sales or accommodation bookings via roomsXML in each of the three destinations featured on the famil.
Lyndy Burston, representative for Werribee, VIC, was among the qualifying PTMs, and says the trip was her first visit to San Francisco in twenty years.
"It definitely refreshed my appreciation for San Francisco, and as I had never been to either Sonoma County or Yosemite National Park, I can now confidently sell all three Northern California destinations to my clients and tailor-make itineraries with activities and experiences to suit."
Lyndy was not the only participant who reports being 'wowed' by the destinations visited during the famil.  Ozlem Tuncay, from TravelManagers' National Partnership Office (NPO) technology support team, accompanied the group and identified ziplining through redwood forest in the Sonoma County as one of her favourite experiences.  "The bike ride tour across the Golden Gate Bridge to Sausalito, then back across the Bay to San Francisco by ferry was another highlight," she says, "but I will have to return to explore San Francisco further, as two days was not nearly enough!"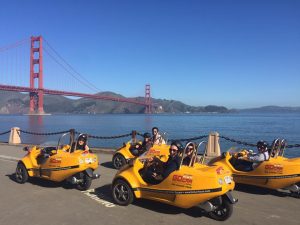 Chantel Scott, representative for Oak Park, VIC, agrees with these choices, and adds that both Sonoma and Yosemite exceeded her expectations.  She says the famil has given her complete confidence in building itineraries as she now has a clear understanding of how much time her clients should spend in each destination, which towns to stay in and even which restaurants to recommend, adding that she will recommend her clients try the walking food tour they took in Healdsburg.  "I loved the Sonoma County – it has so much to offer in terms of food, wine, atmosphere and friendly people," she explains.
Lyndy, who describes Yosemite National Park as "absolutely stunning", says visiting the Park in the off-season meant that there were fewer crowds, and that despite the cold weather, they were treated to blue skies and sunny days.  Her recommendation for clients will be to pre-book the Valley Floor tour, as even in the off-season it was booked out three months in advance.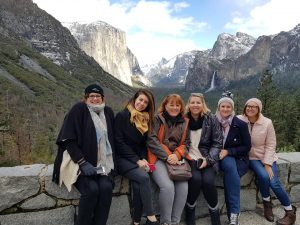 "The scenery was out of this world and postcard perfect – photos simply did not do it justice," she enthuses.
Rounding out the group were four more PTMs from around Australia: Merran Anderson (representative for Mitchelton, QLD), Debbie McLean (representative for Narrandera, NSW), Ally Casey (representative for Long Jetty, NSW), and Kerry Reading (representative for Wahroonga, NSW).
Merran says the self-drive itinerary made the famil a very 'hands-on' experience, and believes that she will now have the utmost confidence in selling the Northern California region to her clients.  "I would recommend that my clients not try to fit too much into their stay in each area, and instead choose a few activities that allow them to enjoy the region for what it is.  I would also recommend that they ask their hotel staff for their favourite, local recommendations."
All the PTMs mentioned the local food experiences as another highlight of their time in Northern California: "the food on the whole trip was fabulous, but particularly in Sonoma County," Lyndy says.  "The food and wine experiences this county has to offer are definitely a secret which needs to be shared!"
TravelManagers' Executive General Manager, Michael Gazal, says the famil is another example of the close partnership the company enjoys with its partner suppliers and tourism industry representative offices – in this case Qantas Airways and Gate 7, the marketing and public relations agency representing all three destinations to the Australian market.
"Having worked hard to earn a coveted spot on the famil, our PTMs are focused on soaking up as much in-depth knowledge as possible from the moment they step on the plane.  Our business partners are able to provide them with experiences and opportunities that our PTMs wouldn't necessarily be able to access on their own."
All the participants agreed that they will be returning to further experience the attractions of Northern California, with several adding that they would bring their families along next time.
"There wasn't enough time to see all that the Sonoma Valley and Yosemite had to offer – but I suspect there never is," adds Merran